1982
I originally founded the band back in the winter of 1981-82 through a series of Musicians Wanted ads in Cleveland's local entertainment weekly - SCENE MAGAZINE. During the previous six months, I had been writing songs and recording demos in my 4-track home studio, located in a rundown, old farmhouse, on the outskirts of Cleveland (Warrensville Hts. for all you geographers out there). Ultimately, I was looking to put together a group of like-minded musicians to take the demos to the next level, and release them on vinyl (you remember vinyl records, don't you?).
Once the audition dust settled, the first System 56 lineup was set, as follows.
L-R: Vince Scafiti on drums, Chuck Ryder on bass & backing vocals, Kevin Lytle on synthesizers, with myself on guitar & lead vocals. Most of us had only minimal recording and stage experience, but we all shared the common goal of recording and performing original music, amidst dreams of fame, fortune, and empire. Vince had done some studio work with TIN HUEY's Mark Price and local folkie, John Bassette, Chuck had previously been involved in a two-man electronic/synth-based group called LUXUS (they also released a couple of singles, which are worth tracking down), Kevin had played with a relatively unknown group called SURVIVOR, while I was just coming off a solo electronic/synth-based project, called AFTERMATH (which also released one single - "Automatic Entertainment" in 1980). We all had regular 9-to-5 day jobs at the time, and despite being together for barely a month, we finished recording our first single - Metro- Metro, in February 1982, and released it two months later, in April. The record received a fair amount of local airplay on Cleveland's college radio stations - WCSB, WRUW, and WJCU - which really helped launch the band out of the basement (actually, the attic) and onto the Cleveland airwaves. Overall, the reception to Metro Metro was generally pretty positive, and the band was getting favorably compared to many of the European synth-based bands around at the time (Ultravox, Joy Division, Simple Minds, etc.). We had reached our first milestone - the record was finally out, and that was all that truly mattered.
Trouser Press: "Considering all the weird stuff that's come out of Cleveland and its environs over the years, this surprisingly mainstream. Which is not to say it's AOR (album oriented radio) fodder by a long stretch, but it ought to be. Both sides are hard-edged rock shot through with a generous helping of lush synthesizer. Very European sounding . . . and quite catchy to boot."
Alternative Rhythms: "This is very good . . . it's sort of Ultravox-ish in the sense it is both guitar & synthesizer . . . the keyboard styling is often similar to what Billy Currie does for Ultravox . . . this is really good." - Sam Rosenthal
Shortly after Metro-Metro was released, the band began rehearsing for a couple of scheduled live shows at the old Bank Niteclub, in Akron, later that month. The Bank had always had a healthy reputation for promoting and featuring many local original bands,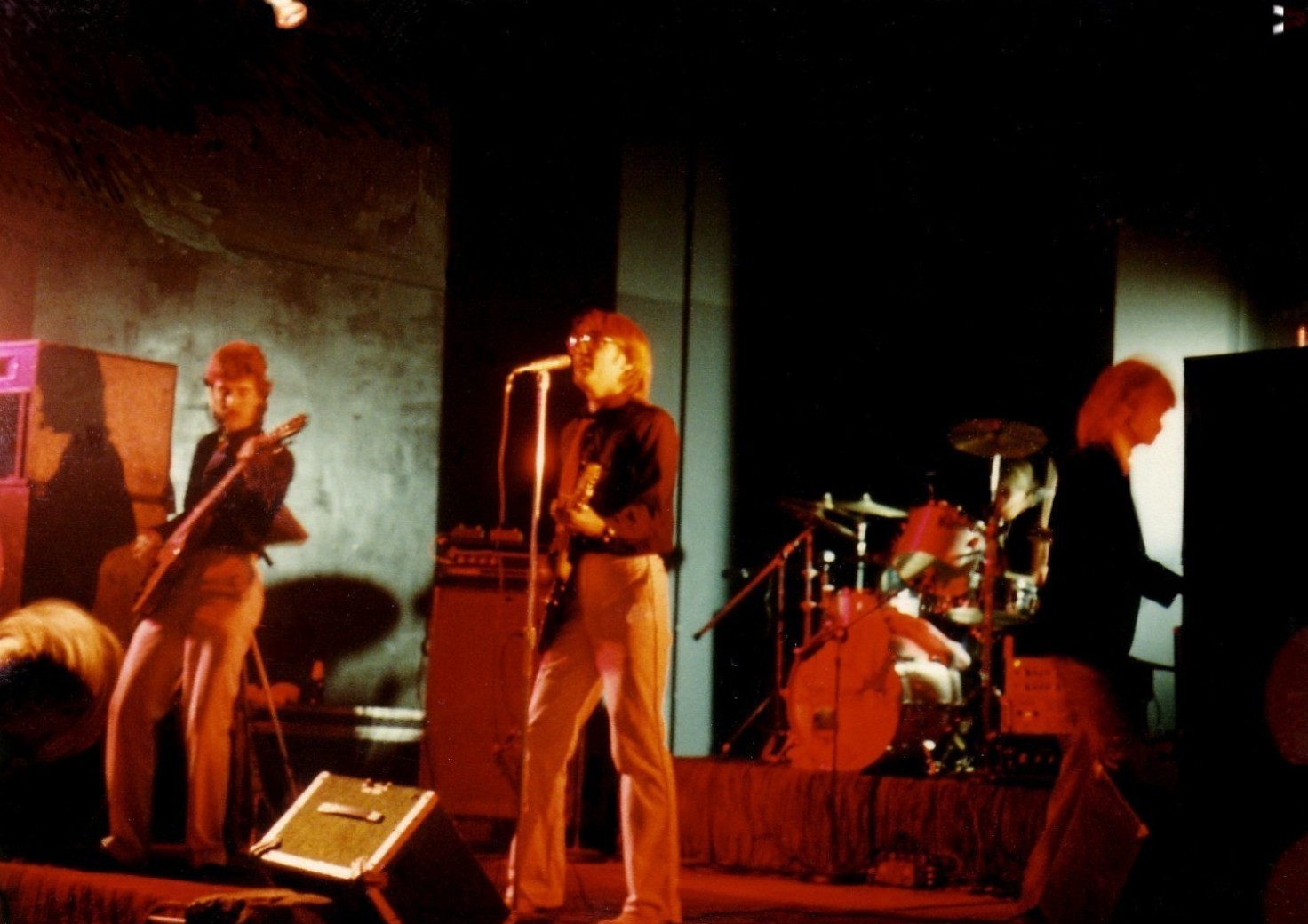 and provided us with the perfect opportunity to bring our music to a live audience for the first time. If I remember correctly (and I do), we each made about $10 per show, along with a couple of free beers - and we were the headliners! Apparently, Thursday nights were kind of slow in Akron back then. Our set list was pretty short for those first couple shows, consisting primarily of the single, the B-side, about half of what would later become the Beyond the Parade EP, plus a handful of other originals, whose titles I can barely even recall. But we made up for a lack of material by playing the "extended" versions, and overall, the shows went pretty well, all things considered. Not too long afterwards, some creative differences set in, with Chuck and Kevin exiting the band to pursue their own projects. In any event, it was time to regroup.
Now reduced to just a two-some, we decided, that instead of auditioning for new members, we would just plow ahead with doing the next record. So, during June and July, we busied ourselves with multi-tracking and sub mixing ourselves into what would subsequently become our 6-song EP, BEYOND THE PARADE.
The EP featured a range of fresh material from our ever-expanding repertoire, and allowed us to augment the more structured rockers (Brave New Toys, Through Other Eyes, Hands of a Stranger, and You're Only Dreaming) with a couple of unusual instrumentals - "Rhythm Before Reason" and "The Twilight Index". The rhythm track for Rhythm Before Reason, for example, was actually a tape-spliced sample of one of Vince's drumbeats, run in a continuous loop (it must have been about 8 feet long). There were no such things as "samplers" in those days, so we had to do these things manually. (Oh, the humanity). On the Twilight Index, one of its primary textural elements was inspired by a field of crickets, whose real life counterparts would occasionally bleed through the studio mics in the evenings, if we weren't careful. We didn't actually record the live crickets themselves - they were electronically recreated on a Korg MS-20 synthesizer, but I felt that I should at least credit them with the basic idea, nonetheless. The church bells pealing in the distance, were likewise, inspired by a nearby church, and emulated on the synth, as well.
Released in October 1982, BEYOND THE PARADE proved to be our first ready-for-primetime-radio record, when Cleveland's 50,000 watt FM powerhouse, WMMS picked up "You're Only Dreaming", as the single for regular rotation on their official play list. It was a timely stroke of good luck, as many local bands were routinely dissapointed in their attempts to break through the commercial FM radio barrier. This instantly exposed the band to a much wider audience, and gave us more credibility on the local level, not to mention a nice boost in record sales. Not only was You're Only Dreaming a significant airplay milestone for the band, but it remains one of my personal favorite System 56 tracks to this day.
The reviews continued in a positive vein.
Music (Florida): "System 56 incorporates electronics and power-pop into a mix that falls between the orchestral approach of Ultravox and the electro-pop style of A Flock of Seagulls." - Ken Hall
For Arts Sake: "Beyond the Parade displays a type of Cars meets Human League sound, incorporating the steady, infectious beat of Scafiti's drum work and Simenic's effective use of guitar and synthesizer, by effectively interweaving elements of each throughout the songs." - Jon Kapper
Scene Magazine: "Thoroughly modern in design, the System 56 approach to music is to begin with a synthesizer line and embellish it with words and melody. On Beyond the Parade, this formula works to perfection. This is definitely one of the most innovative pieces of vinyl to be released from Cleveland in years." - Brian Gomez
Overall, 1982 was a very good year, but the band still needed to evolve a bit further...